Sales may be run either simultaneously, where all lots are offered at once, or sequentially, where lots are offered one at a time.
In a Simultaneous auction, all lots are available at one time. AuctionsPlus simultaneous auctions are controlled by a timer system.
As of March 2020, simultaneous commercial livestock auctions have no guaranteed minimum running time.
Once the timer is visible at the top of the auction it controls the auction finishing – dependent on the amount of bidding activity. The timer will count down towards zero, from the nominated time (e.g. 60 seconds), and if no bids are placed, the auction will close.
Every time a bid is placed, on any lot in that auction, the timer will restart and begin to count down again. The auction closes together, meaning all lots remain available until the entire sale finishes.
If you are bidding in a sale and holding a lot, it will remain green and then turn red if you are outbid. Once outbid, you have the time left shown on the timer to decide if you will place another bid before the auction could close.
If there is frequent bidding activity during a sale, the sale can continue running, and AuctionsPlus cannot guarantee when a sale may conclude.
A simultaneous sale will look like below: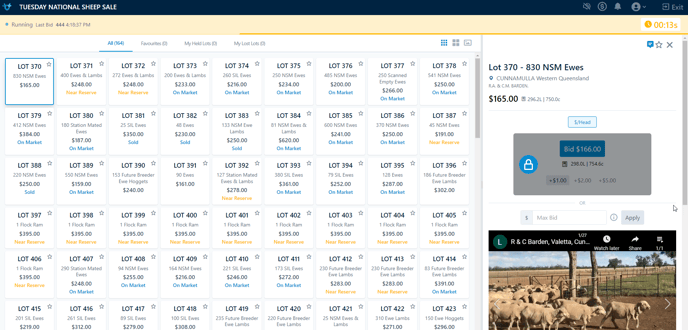 Special Simultaneous Sales
Special sales that are conducted in a Simultaneous format are subject to close under instruction from the Selling Agent for that sale.
For example: Machinery Auctions are regularly open for several days, to then conclude from a certain time on a given day. I.e. Auction will conclude from 2pm on Wednesday. From this time, the timer will control the Auction, and once bidding activity concludes, the Auction will finish.
This information is included in the top of the catalogue, but we recommend contacting the Selling Agent for any questions on the amount of time that a nominated Special Sale will be open for.
In a Sequential auction, lots are offered one at a time. Sequential sales are often interfaced with a live physical auction, therefore at the fall of the hammer (onsite, as dictated by the Auctioneer) the lot will close, and the next lot in the catalogue will become available for bidding. At the conclusion of all lots being offered, the sale will conclude.
A sequential sale will look like below: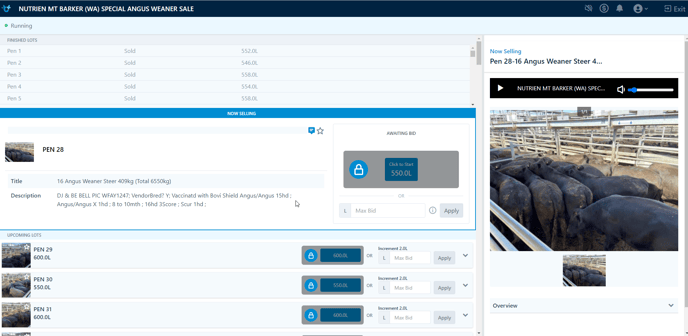 A sequential sale may also include audio or video streaming, which will be shown on the right-hand side if available.